The Region Called The Green Heart of Italy Brings Its Finest Olive Oils to the Big Apple
NEW YORK, May 7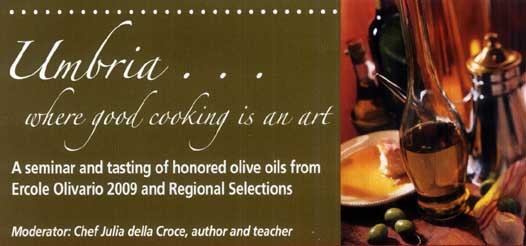 The central Italian region of Umbria arrives in New York City today in the form of its long-standing culinary traditions and its reputation for producing some of Italy's finest D.O.P. Extra-Virgin Olive Oils.
"Umbria—Where Good Cooking Is an Art" will present the oils this afternoon to a select audience of food writers, chefs, restaurateurs and importers gathered at Sirio Maccioni's Le Cirque restaurant. Renowned cookbook author and teacher Julia della Croce will lead a tasting and discussion with panelists Amelia Argenziano, Secretary of the organizing committee of Ercole Olivario, Italy's annual national competition for producers of regional extra-virgin olive oils and Chef Andrea Tiberi.
D.O.P., which stands for Protected Denomination of Origin, is a designation, backed by Italian and European Union laws, that is not merely awarded but earned. Producers must adhere to the highest standards of quality, from cultivation in the olive groves through harvesting, pressing and bottling. Extra-Virgin Oil DOP thus assures consumers of the maximum in quality, food safety, and expression of the region in which it was made.
The 10 DOP Umbria olive oils - 2 national winners and 8 regional honorees—being presented are the products of the Contessa Geltrude, C.U.FR.OL., Eugenio Ranchino, Giovanni Batta, Lungarotti, Mascio, Monini, Montecorona, Noemio Bacci and Viola agricultural estates. They represent Umbria's five DOP five sub-zones: the Colli di Assisi-Spoleto, the Colli Martani, the Colli Amerini, the Colli del Trasimeno and the Colli Orvietani. Some of the producers themselves will be in attendance. "Umbria—Where Good Cooking Is an Art is an especially appropriate title," said Aniello Musella, Executive Director for the USA, of the Italian Trade Commission, "as the event will conclude with a tasting of regional dishes using DOP Umbria extra-virgin olive oil and made by Chef Andrea Tiberi, a native of Umbria who lives in the United States and is a partner in the Eatalian Style Corp., which promotes authentic Italian cuisine and culture "
"Umbria—Where Good Cooking Is an Art" is organized by the Italian Trade Commission, New York, in cooperation with Regione Umbria, Camera di Commercio di Perugia and Centro Estero delle Camere di Commercio dell'Umbria.