---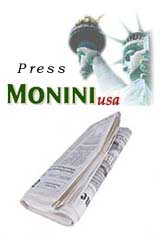 MONINI joins EVA, the World's Best Olive Oil Network

INTERVIEW with Marco Petrini at LA VOCE DI NEW YORK : "I'll Explain to You How Monini Olive Oil Conquered the U.S."

Italian Olive Oil : recent independent taste tests performed by nationally recognized Cunsumer Protection Magazines in Italy.

INTERVIEW with Marco Petrini and Roberto Magello at Fancy Food Show San Francisco

INTERVIEW with LIDIA BASTIANICH at Eataly NYC by the #1 newspaper in Italy.

"Umbria Comes to NYC"

"I LOVE UMBRIA" Month in New York City.

"I LOVE UMBRIA" RECIPES: celebrate the region's wines and foods with a month of tastings and events in New York City
By Kimberly L. Jackson/The Star-Ledger

MONINI RECIPE CONTEST 2012
Submit a unique recipe featuring Monini products and you will be eligible to Win a trip to Italy for the 2012 Olive Harvest!

MONINI , THE IMPORT WINNER
Healthy Living Newsletter, produced by the American Cancer Society that teaches the importance of making healthy lifestyle choices.

MONINI SPONSORS FOR CULINA, MODERN ITALIAN
Monini is proud to announce the start of a partnership with Culina, Modern Italian, opening on March 3rd, 2010 at Four Seasons Hotel Los Angeles at Beverly Hills.

UMBRIA TAKES MANHATTAN - MAY 7th, 2009.
The Region Called The Green Heart of Italy Brings Its Finest Olive Oils to the Big Apple



ARTICLE ON WALL STREET JOURNAL - Sept. '08
Monini is among the very few, truly authentic Italian olive oil players still standing in an environment where large multinational and multi-product companies are making a big push to buy and run Italian olive oil companies



GOLDEN DOOR by Andrea Rademan for Venice
The recent USA culinary tour of the Executive Chef Angelo Franchini highlighted in the Los Angeles Arts & Entertainment Magazine

NEW YORK TIMES REVIEW - UMBRIA JAZZ NEW YORK PROJECT 2007 - As you already know Monini is one of the official sponsors of Umbria Jazz New York 2007, as well as one of the main sponsors of Umbria Jazz in Italy. In New York, the jazz musician Francisco Cafiso performed at Birdland on West 44th Street



GOOD HOUSEKEEPING - has published in the March Issue the results of a taste test conducted on the top 12 supermarket brands of extra virgin olive oil;



GOURMET FOOD NEWS - Olive Oil Report, March 2007 - When building an olive oil porfolio, think international. Interview to Mr. Marco Petrini

NEW YORK (Reuters Health) - When it comes to heart health, virgin olive oil may have an edge over other vegetable fats, new research suggests.



December 2005 issue of BEAUTIFUL ITINERARIES. A researched article on Monini oils will bring you in the hearth of our origins.



Novel Partnership Between Charity, Restaurant & Specialty Olive Oil Importer Brings "Taste for Health" To Upscale Diners



How Healthy Eating Can Lower Breast Cancer Risk
The old saying, "You are what you eat" never has been more true.
Recent research has shown definitive links between diet and health - or conversely, between diet and certain diseases.



Splendors in Spoleto
by Nancy Dacey
This past July two of Dairylands top Monini users (restaurant groups,) were asked to send a representative from one of their restaurants on an Educational trip and to tour Spoleto, Italy, and The Monini Manufacturing plant. Fortunately because I represent Dairyland, as Brand Manager of Monini, I was included and went along for the adventure gladly.



LUCIRE - Escape to Umbria
During "On of The Family Contest" trip to Italy, our guest , Pameladevi Govinda (Lucire writers) explores Umbria, a region touted as the new Tuscany, and samples the olive oil and wine for which this largely untouched region is known.



FOOD & WINE - Taste Test Supermarket Olive Oil April 2003
by Monica F. Forrestall
You don't have to shop at a specialty-food store to find a decent olive oil. We tasted 12 brands sold at local supermarkets and turned up four that offer a pleasing depth of flavor for a fraction of the cost.



1920: The beginning of A Dynasty
The birth of large companies is often due to an intuition which is able to satisfy a market demand. In the '20s marketing theories were yet to be written, but Zefferino Monini was able to understand the market needs and started specializing in the production of Extra Virgin olive oil in a moment in which only olive oil was being marketed.



THE HOUR - Monini hope to become household name
Hoping to do for olive oil what Starbucks did for coffee, Marco Petrini, president of Monini North America, Inc., is trying to convince consumers to eat more, and spend more, on olive oil.



Best in Class
A recent study done by IRI - Infoscan in Italy on the entire food grocery market has highlighted Monini Originale Extra Virgin Olive Oil



Monini. The Oil with something Extra......
From "Italia, Life in I style" supplement to HouseBeautiful, Town&Country, Harper's Bazaar, Marie Claire, Esquire e Smart Money
Nov. 2002
by Donata Sartorio



Calling all Connoisseurs
ENTER TO WIN A CUSTOMIZED OLIVE OIL BLEND BY MASTRI OLEARI AND A FABULOUS TRIP TO ITALY'S SPOLETO FESTIVAL
October 17, 2002
Laura Baddish, The Baddish Group



Report on Monini il Monello Luncheon
NEW YORK, March 8, 2002
Laura Baddish, The Baddish Group