extract from the Joanne Friedrick interview with Marco Petrini
The health benefit of olive oil can't be overlooked and are often at the heart of marketing campaigns. Marco Petrini form Monini North America said in Italy is a well-accepted custom to give a tablespoon of extra virgin olive oil to babies to help with their fat intake and aid digestion.
He said pediatrician in Italy suggested this practice and thus Monini has done some seminars with doctors in the United States to highlight this practice. The company is also going into some schools to talk about the healthful properties of olive oil as part of the campaign to reduce childhood obesity. "So many people need to have a more healthy diet" said Petrini."But those who don't have good habits aren't getting this message".

Another focus for Monini, said Petrini is dealing only with authentic products from Italy.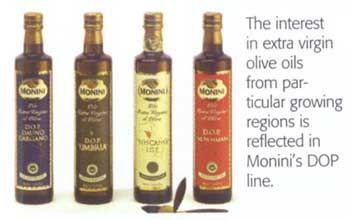 He said although many oils on the market have Italian names, they are packed and bottled in Italy using oil from Spain or Greece.
"We wanted our product to be from Italy" he said. Petrini said although a treaty between the International Olive Oil Council and North American Olive Oil Association requires country of origin labeling on bottles, "it's not enough".
He said the small print, often hidden on the back of the bottle, and misleading artwork showing an Italian scene may confuse shoppers into thinking they are getting an Italian oil.
As for its oils, Monini offers several, including a line of regional DOP oils. The oils identify the sub region and the olive varieties, which Petrini said is a growing trend within the olive oil sector.
Flavored olive oil is another key category and one that is growing rapidly, said Petrini. "We see this space in the supermarket grow each month" he noted. Interest is spurred in part by recipes that call for flavored oils, he said. Most consumers don't want to go through the trouble and expense of making their own, even if the recipe call for it, so they seek them out in the store. "We sell more and more unique flavor every year" he said.
read the full article in PDF format