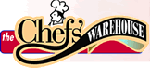 From "Chefs Express"
by Nancy Dacey
courtesy of Dairyland, NY

This past July two of Dairylands top Monini users (restaurant groups,) were asked to send a representative from one of their restaurants on an Educational trip and to tour Spoleto, Italy, and The Monini Manufacturing plant. Fortunately because I represent Dairyland, as Brand Manager of Monini, I was included and went along for the adventure gladly.
---
Invited from The Tramp Rock Group in New Jersey, was Chef Bruce Johnson from "3 West Restaurant" in Basking Ridge, New Jersey and his wife Christina.
3 West has an impressive reputation for its "New American Style" cuisine, and the restaurant décor is characterized by warm shades and textures of brick, copper and rich dark woods. The customers there dine on Chef Johnson's fine creations while they bask in the combined perfume of wood smoke, charred meat and sizzling butter as it wafts from the open kitchen as cool jazz emanates throughout.

From the Terra Group in Greenwich, Conn. was Chef Robert Bognar of Mediterraneo, Rest. in Greenwich, Conn.
Mediterraneo's interior reflects the modern yachtsman's dream, putting to imaginative use the rigging, decking, hardware and materials found on board a 65- foot yacht. The restaurant front is wrapped with a continuing band of French doors and white canopies, flooding the restaurant with natural light during the day. Chef Robert Bognar has created dishes inspired by the countries bordering the Mediterranean, such as our delicious Mediterraneo fish salad, made with fresh shrimp, salmon, scallops, calamari, clams, preserved lemon & mint and our mouth-wateringWood roasted monkfish, served with middle eastern cous cous, eggplant fondue and lobster mint butter.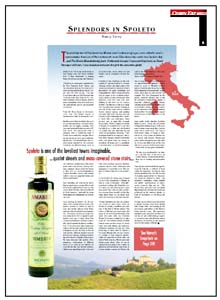 Also attending our educational travelling escapade were a group of food writers from throughout the US and our trip leader, Marco Petrini, Director of Monini in North America. And with the group established and enthusiastic we were on our way!
Upon arriving in Spoleto, we all marveled at the beauty of the ancient city. Spoleto located in Umbria, is only an hour and twenty minutes from Rome, and one of the loveliest towns imaginable. The quaint streets and moss covered stone stairs hint of Spoleto's past. Spoleto was once a Latin colony that transformed itself into a Roman community, which explains its diverse architecture. If you love food, wine, visual arts, history and the performing arts, Spoleto is the place for you. We came to find out that Spoleto, which is nestled between Marche and Tuscany, is simply overflowing with culinary delights of the region. We were informed that Spoleto offers numerous celebrations of different forms of art, such as the Festival dei Due Mondi (the Two Worlds Festival.) which is an annual spectacle of international live music, dance, visual arts and theatre, and is recognized all over the world.
Founded by the Umbrians in the first century BC, Spoleto went on to become a Roman colony in the third century. It is a remarkably beautiful and ancient place surrounded by green mountains and rolling hillsides. With a history this rich, you can expect to see countless archaeological finds and discover Roman ruins wherever your feet may take you. Walking is the best way to explore Spoleto.
The historical town is so small that you often find yourself weaving in and out of the same narrow cobbled streets, sleepy piazzas, and gushing fountains. After just a few days you feel like part of the community where friendly faces offer you welcoming 'buon giorno' and, as dusk falls, tranquil 'buona sera'. While traipsing the streets of Spoleto, it is remarkable to see that the elderly are a slim and able-bodied lot, making their way, with ease, up and down the precipitous alleyways.
Their physiques must be, in large part, due to their diets. Umbria is blessed with fertile soils, lush green land and plenty of woodland, all giving way to a multitude of local produce. A trip in the summertime offers peaches, apricots, cherries, peppers, capers, olives, artichokes and asparagus, to name but a few. The cuisine of Spoleto is known for its simplicity.
A formal olive oil tasting was arranged for us in the boardroom of Monini as well as a tour of the plant. Although I have been working with Monini for several years now and have learned a great deal about their olive oil and production process, there is really nothing like being there where all the magic happens, and watching it all come together.
"In Italy, Monini is not only the number one brand of extra virgin olive oil; Monini is a family, a tradition and a fixture of the best in Italian cuisine. The history of Monini goes back nearly 100 years. At a time when most Italian cooks used only pure olive oil, Zefferino Monini Sr. focused exclusively on extra virgin oil. The Umbrian climate and hills helped create an extra virgin oil whose flavor was both intense and balanced. Zefferino's business acumen and deep knowledge of olives paid off. Within a few years, Monini olive oils were known far outside of their home in Spoleto. Unlike the majority of Italian olive oils sold in North America, Monini uses only Italian grown olives. Olive oil can be labeled as originating in the country in which the oil was bottled, even if the oil is from another country, but Monini oils capture the fresh essence of 100% premium Italian-grown olives." - Marco Petrini, President Monini USA.
One of my personal favorite highlights of our trip included indulging in 5 course meals at some of Monini's favorite restaurants in Spoleto where the famous black summer truffle was shaved on just about every dish we were served! For example, Tric Trac Restaurant in the square, perfectly situated just across the cathedral of Santa Maria Assunta, a beautiful relatively humble Roman cathedral that was built in the latter part of the twelfth century we were presented for our review a full plate of summer black truffles! You simply do not experience this kind of truffle splendor in the states.
Some guide books describe Spoletini dishes as 'poor', though the idea of free flowing black truffles as part of the poor man's cuisine seems more like a fantasy come true to most of us. The fragrant black-brown clump of fungus is often served as a first course in dishes that are simple and modest. Restaurants grate tartufo onto plain pasta with olive oil. Or as in one dish we ate at Tric Trac restaurant, you can watch it snow upon your risotto as they grate it tableside.
We also were priviledged to be taken on a private tour of the Rocca di Fabbri, Winery, located in Montefalco. This was an exciting and informative tour.
This trip also coincided with the Spoleto Carnival Festival, a festival of local artists and musicians. The Spoleto festival was established in 1958 with the aim of creating opportunities for European and American cultures to meet. The wonderful celebration offers exhibits and public performances of dance, opera, concerts, film and art. The streets were open with the local artists displaying their canvases and musicians performed in the outdoor theater in front of the Basilica in the Piazza del Duomo.
To sum it up we all had a marvelous time in Spoleto learning more about Monini Extra Virgin Olive, and soaking up the rich beauty, and culture of the historic Italian gem of a town. The experience established yet again how well fine food and fine art and architecture go together. I arrived home with all of my senses revitalized and an even greater appreciation for the quality of Monini.