From "The Hour"

March 2003
by Ryan Flinn
courtesy of "the Hour" Newspaper - Norwalk, CT
---
Hoping to do for olive oil what Starbucks did for coffee, Marco Petrini, president of Monini North America, Inc., is trying to convince consumers to eat more, and spend more, on olive oil. To accomplish this goal, he has recruited chefs at top restaurants in New York City to use his products.
Five varieties of Monini's extra virgin olive oil can be found in specialty food markets and Stop & Shop. The company even gave away a trip to Italy and a year supply of its products to consumers who visited its Web site.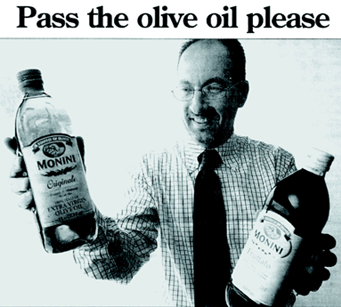 "Starbucks is a fair comparison," said Petrini, who works out of the company's Norwalk office. "But we're still in a growth phase." The company wants consumers to seek out higher quality olive oils - and pay more per bottle - as they do increasingly for their coffee. Spending $3 for a cup of coffee may be normal for some people, but several years ago, the idea might have seemed excessive. By placing an emphasis on quality, Monini wants to follow Starbuck's path.

If Monini can replicate its success it enjoys at home here in the United States, then Petrini will succeed in his goal. He said that in the United States, the average person consumes 50 ounces of olive oil a year, while in Italy, the number is 80 times as much. "We want people to know that Monini is a household name in Italy, and we want to establish Monini as a major player in the olive oil market here," he said.

The company's products include Monini Extra Virgin Originale, Extra Virgin Fruttato, Amabile D.O.P. Extra Virgin, OilBios Organic Extra Virgin, and Monello Extra Virgin.
"Our idea is to start segmenting the market," Petrini said. Most Americans use one type of olive oil when they cook, he said, but different types of oils have different tastes and are meant for various uses. Monini is hoping to educate consumers on the different uses for its products through an advertising and marketing campaign. The current trend in the market is positive. According to Bob Bauer, president of the New Jersey-based North American Olive Oil Association, in 1982, distributors imported 65 million pounds of olive oil.
In 2002, that number had grown to 475 million pounds. "People are becoming more familiar with olive oil," Bauer said. "They see it more at supermarkets and are learning that it's very healthy." Most of the market is currently concentrated on the East Coast, specifically New York. Petrini said 35 percent of olive oil is sold in the metro New York area. "Olive oil is compared to wine, because olives from different areas taste different. Having a lot of choices (in types of oil) is a good move on Monini's part," Bauer said.
copyrighted by The Hour newspapers