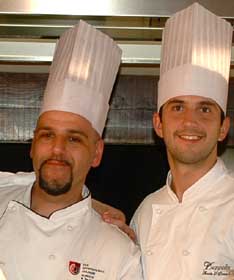 Chef Lorenzo Polegri and Kevin O'Donnell from Zeppelin Restaurant and Monini Culinary Center:

" TASTE THE FOOD OF UMBRIA'S RICH HISTORY"

in collaboration with
MONINI.
February 18th, 2009 at "The James Beard House".
07:00 PM, US/Eastern
James Beard Foundation, New York, N.Y., at the end of the culinary tour dinner of gala in the buildings of the most famous culinary institution and the highest and authentic authority of the culinary sector in America.
JBF Members $150 - General Public $200

Event Location:
The Beard House
167 West 12th Street
NYC
Call 212.627.2308 to reserve.
Hors d'Oeuvre
Porcini Bruschetta with Extra Virgin Olive Oil
Amatriciana Pizzette
Chick Pea Frittelle with Salt Cod Mousse
Bresaola with Goat Cheese, Baby Arugula, and Lemon Oil
Gnocchi Fritti with Chestnut Honey and Pine Nuts
WINE: Le Lune & Le Prune Orvieto Classico 2007

Dinner
Potato and Leek Sformato with Caramelized Cauliflower, Umbrian Truffles, and Caciotta Cheese Fonduta
-Wine: Scacciadiavoli Montefalco Rosso 2005
Fava Bean Soup with Guanciale, Sage, and Parmigiano-Reggiano
-Wine: Scacciadiavoli Montefalco Rosso 2005
Pear and Pecorino Ravioloni with Fior di Latte, Radicchio, and Walnuts -
Wine:Scacciadiavoli Montefalco Sagrantino 2004
Chocolate-Braised Wild Boar with Butternut Squash, Celery Root Purée, and Swiss Chard Agrodolce
-Wine: Scacciadiavoli Montefalco Sagrantino 2004
Polenta Carrot Cake with Vin Santo–Spiced Zabaglione and Aleatico Wine Reduction
-Wine:Scacciadiavoli Montefalco Sagrantino Passito 2003