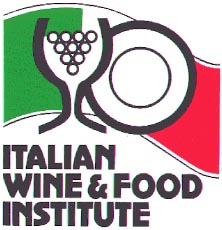 On February 19, 2009 in New York
GALA ITALIA will be held in the grand ballrooms of the Marriott Marquis Hotel in Manhattan on February 19, 2009 under the high patronage of the Italian Ambassador in Washington, Giovanni Castellaneta, who will travel to New York especially for this event.

GALA ITALIA opens with a spectacular tasting-seminar-luncheon, the "Taste of Italy" which features for the first time presentations some of Italy's leading wines by thirty top Italian producers.
The wines will be paired with a multi-course luncheon, prepared by an Italian chef, to enhance the wines presented.
During the tasting seminar, 110 wine and food editors, exclusively selected for the event, will be able to interact with the wine producers and get an updated overview of the latest Italian wine production.
Over 2,000 pre-registered American trade and press representatives are expected at the core GALA ITALIA events which will run from 2 - 10 p.m., following the press luncheon.
The first event, the Italian Wine & Food Tasting, features the participation of leading Italian wine producers, such as: Abraxas, Antinori, Astoria, Baglio di Pianetto, Battaglio, Bava, Alto Belice, Benanti, Bertani, Bettini, Jacopo Biondi Santi-Castello di Montepo', Bottega Vinaia, Campari, Cantina di Montalcino, Cantina Meloni, Cantina Viticoltori Associati, Carlin de Paolo, Casa di Grazia, Casale di Falchini, Castello di Cigognola, Castello di Fonterutoli, Castello di Gabbiano, Castello di Querceto, Cavit, Concilio, Corbera, Da Vinci, Duca di Salaparuta, Fabiano, Feudi della Medusa, Feudi di San Gregorio, Feudo Arcuria, F.lli Muratori, Franco Todini, G. Milazzo, Grotta del Sole, Lunetta, Masciarelli, Maso Canali, Melandri, Monterossa, Paolo Cali', Pellegrino, Piccini, Planeta, Rizzi, Rocca delle Macie, Ruffino, Sella & Mosca, Sette Ponti, Tasca d'Almerita, Tenuta di Arceno, Teruzzi & Puthod, Triacca-LaMadonnina, Vanzini, Viberti, Villabella, Villa S. Andrea and Zonin.
Various Italian restaurants and food producers will play a central role at the Wine & Food Tasting by gastronomically pairing the wines. Among the participating restaurants are: Accademia di Vino, Aleo, Bice, Borgo Antico, Cesca, Da Sandro, Gallo Nero, Gradisca, Marco Polo, La Masseria, Paola's, Pasta Moto, Osteria Moto, Osteria del Circo, Pepolino, Primavera, il Riccio, S.Rosi/C.Casella, Serafina, I Tre Merli and Tuscan Oven. Among the participating food producers are: Artisan Bakers Group, Atalanta Corporation, Coffee Distributing, Fabbri 1905, Ferrero, The Food Solution, Lavazza, Licini Salumi, Monini, Musco Food, Niche, Spes Cioccolato, Tom Cat Bakery and Acqua Smeraldina as "water sponsor" of GALA ITALIA.
In addition to wine and food, GALA ITALIA showcases the excellence of Italian fashion and style by previewing the 2009 spring/summer collections of two renowned fashion houses from the Lombardy region: the sportswear line from Simona Ventura's "Star Chic" collection and Raffaella Curiel's Haute Couture.
The artistic background for the event is provided by an exhibition of the paintings of Giovan Francesco Barbieri, known as Guercino. The famous sixteenth century painter's works have never been shown before outside of Europe. The exhibition, organized in cooperation with the Italian Cultural Institute of New York, illuminates the cultural and historic background of today's "Made in Italy."
GALA ITALIA concludes in the late evening with a Gala Dinner by Chef Giancarlo Morelli, an informal fashion presentation and a musical performance by the Accademia della Scala.
The GALA ITALIA will also feature the drawing of exciting prizes, which include a Vespa scooter, courtesy of Piaggio, as well as several trips to Italy in cooperation with the Italian Government Tourist Board of New York, the Regional Institute of Vine and Wine of Palermo, and Atahotels. Most recent models of Vespa scooters will also be on display.
All guests will receive an elegant catalog, giving detailed information about the GALA ITALIA.
For further details, please contact
Italian Wine & Food Institute
Tel.: 212 - 867-4111
Fax: 212 - 867-4114