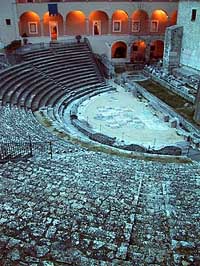 Monini, since 1958, is one of the main Sponsors of Italy's leading international arts festival, called "The Festival of Two Worlds" in Spoleto, Italy. This name was given to the event by its founder Maestro Gian Carlo Menotti, because the event was taking place in two separate venues: Spoleto (Umbria), Italy and Charleston (South Carolina), USA.
But the second of Mr. Menotti's ''two worlds,'' the United States, countered monarchy with democracy in the best American tradition. When Mr. Menotti tried to designate Francis as his heir, the board of Spoleto U.S.A. rebelled, and the elder Mr. Menotti finally cleared the field in 1993 and retreated to Umbria, severing ties with the Charleston festival altogether.
After the dead of Maestro Gian Carlo Menotti in 2007, Italy's Festival of Two Worlds has a new artistic director. Italy's Minister for Culture Francesco Rutelli and Spoleto Mayor Massimo Brunini released a joint press release announcing that the position had been offered to Giorgio Ferrara.
The new Administration of the Festival will travel to Charleston, S.C. at the end of March to present the new Festival which name will be: Spoleto, Festival 51 of Two Worlds. Hoping to re-create a strong relationhsip between the town of Spoleto and the city of Charleston, South Carolina.