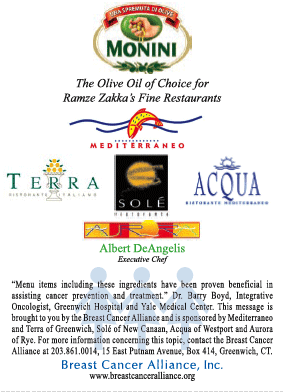 "Taste for Health" to benefit the Breast Cancer Alliance
Succulent carpaccio of yellow fin tuna. Savory striped bass. Grilled calamari with shaved fennel and vegetables. Organic chicken with string bean salad. Are you hungry yet?


Those are just some of the tasty treats awaiting you during December and January's special "Taste for Health" initiative at Ramze Zakka restaurants: Terra and Mediterraneo in Greenwich, Acqua in Westport, Solé in New Canaan and Aurora in Rye.

The Breast Cancer Alliance, along with Ramze Zakka Restaurant Group Executive Chef Albert DeAngelis; Marco Petrini, President of specialty olive oil importer/distributor Monini North America; and Dr. Barry Boyd, Director of the Integrated Medicine program at Greenwich Hospital, is sponsoring a menu promotion to highlight the benefits of certain ingredients in preventing and treating cancer.

Tables at these restaurants will feature tent cards promoting Mediterranean-style menu items that include "cancer-healthy" ingredients. The health benefits of a Mediterranean diet, which tends to be high in Omega 3 fats found in fish, extra-virgin olive oil and vegetables, have been widely noted by doctors and nutritionists.

We want you to focus on healthy eating as a proven way to prevent cancer and other diseases. By choosing foods with ingredients rich in anti-oxidants, high in protein, low in saturated fat, high in fiber, and not overly processed, you'll be eating a diet that has been proven beneficial in assisting cancer prevention and treatment. And it's delicious!

Be sure to eat at one of these restaurants on the weekend of January 7th - 9th, when a donation will be made to the Breast Cancer Alliance for every meal served.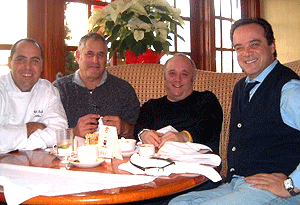 from Left: Executive Chef Albert DeAngelis with Charles Pinski, President of Frappe, Inc. TV Productions; Mark Strausman, Chef/Owner of Coco Pazzo Restaurant and Executive Chef at Fred's at Barneys in New York City; and Pino Luongo, Chef/Owner of New York City's Coco Pazzo, Tuscan Square, La Madri, and Centolire Restaurants.