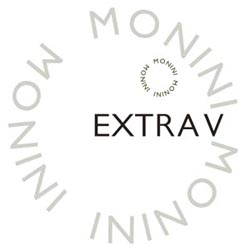 Being in harmony with yourself takes a simple gesture.
Monini's
EXTRA V
beauty product line is a journey through well-being, balance, nutrition and body care; where Extra Virgin Olive Oil – the paramount element of the Mediterranean diet – is at the center of it.
With three generations of experience in Extra Virgin Olive oil, Monini has developed a totally natural line of cosmetics with a precious ingredient and an exclusive formula. Areal "skinfood" to restore and nourish your skin every day. EXTRA V: cosmetics speaking to your skin in its own language.
Product Line includes: Hand Cream, Skinfood Nourishing Cream, Body Cream, Body Wash, Hand Soap
All products are "clean": NO coloring agents, phtalates, parabens, stereatesor preservatives.
All products contain Organic extracts, and are dermatology tested.
All products are sold in convenient dispensers designed exclusively for Monini.
EXTRA V
HAND CREAM

100 ml. (3,38 fl. oz.)

EXTRA V hand cream, soft and easily absorbable, leaves the skin well nourished and smooth.

Extra Virgin Olive Oil provides the necessary nutriments and Vitamin E to the skin, while the blend of Organic Extracts of Aloe, Hamamelisand Chamomille ensure an efficient prevention for dryness and redness.




EXTRA V
SKINFOOD
NOURISHING CREAM

100 ml. (3,38 fl. oz.)

EXTRA V Skin food Nourishing Cream provides great protection for the lipid layer of our skin. The combination of organic elements in high doses help the skin combat extreme elements like wind, cold temperatures and sun exposure. Ideal as an after sun cream, this product can also be used on the very sensitive skin of infants.



EXTRA V
LIQUID HAND SOAP

300 ml. (10,14 fl. oz.)

A rich and healthy hand soap, enriched with organic extracts of Thyme, Cumin, and Icelandic Lichen. The high percentage of Extra Virgin Olive Oil provides the elasticity and nourishment needed in our busy daily life. A pleasant scent and a smooth feel to your hands are guaranteed.



EXTRA V
BODY CREAM

200 ml. (6,76 fl. oz.)

EXTRA V Body Cream is designed to provide firmness and elasticity to our body skin. It also restores shine, smoothness and uniformity by providing a unique mix of anti-aging organic extracts. Can be used twice daily, morning and evening, to provide a continuous protection and nourishment.


EXTRA V
BODY WASH

200 ml. (6,76 fl. oz.)