NOT-FOR-PROFIT SPONSORS - 15th Annual Bon Appétit Wine & Spirit FOCUS

15TH Annual Bon Appétit Wine & Spirits FOCUS
SUNDAY, November 14th, 2004
Los Angeles, Paramount Pictures
2:00 to 5:00 pm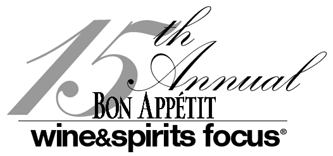 As like the last few years Monini is one of the sponsors of the Bon Appetit Wine & Spirit Focus held to benefit the Make-A-Wish foundation.

This year the event is placed in Hollywood, CA. at Paramount Pictures.
Lifestyle experience where LA's hottest chefs bring the pages of Bon Appétit to life.
A collection of such culinary giants as:
Piero Morovich, Ammo

Suzanne Goin, A.O.C. and Lucques
Ludovic Lefebvre, Bastide
Bill Bracken, The Belvedere at The Peninsula
Ritsuo Tsuchida, Blowfish Sushi
Jaime Covarrubias, Border Grill
Frank Fronda, Café del Rey
Shigefumi Tachibe, Chaya Brasserie
Christian Shaffer and Collin Crannel, Chloe
Chris Behre and Aaron Lindgren, Cinch
Beni Velazquez, Ciudad
Shad Davis, The Counter
Helene An, Crustacean
Chris Bennett, Doug Arango's
Celestino Drago, Drago
Monique King and Paul Rosenbluh,
Firefly Bistro
Neal Fraser, Grace
John Sola, The Grill on the Alley
Suzanne Tracht, Jar
Josie LeBalch, Josie's
Vernon Cardenas, Katana
Jean Francois Meteigner, La Cachette
will feature samples of signature dishes.

Monini North America, Inc. - 6 Armstrong Road - Shelton, CT 06484 - USA - Phone 1 (203) 513-2763 - Fax 1 (203) 513-2863