Monini is the Main Sponsor of the project
"K2 2004 - 50 Years Later "
The company based in Spoleto, Italy and market leader for Extra Virgin Olive Oil has always had in its strategic approach values like tradition and quality. K2 is known as the "italian mountain"; just like Monini is known as the "italians' extra virgin olive oil". Both are italian success stories.
Such an incredible accomplishment requires a perfect form, a body able to withstand extreme conditions, therefore it requires a perfect diet and training.
The role of Extra Virgin Olive Oil in a diet is crucial, particularly at high altitudes where the body needs more fat and an ingredient that facilitates the organic functions.
It is also important to note that most foods at high altitudes are dehydrated, and the use of Extra Virgin Olive Oil is essential for its taste and breakdown.
For the "K2 2004" expedition, Monini has choosen among the items of its "BIOS" line. This Organic Extra Virgin Olive Oil of superior quality is a 100% Italian product obtained from organic olive groves. It is the perfect oil for those who want to live in total harmony with nature and respect its importance.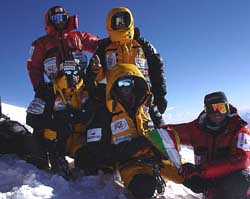 50 years after the first successful ascent of K2 Italians are returning to the Karakoram to celebrate that memorable moment etched in
history on July 31, 1954 by Achille Compagnoni, Lino Lacedelli and their teammates under the leadership of Ardito Desio.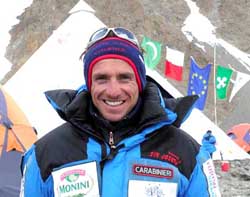 This large, ambitious Italian expedition is sending a 19-member team to scale Everest's north side this spring then two large teams to scale K2 from each side in commemoration the 50th anniversary of K2's first ascent (by Italy).
Italians to mark 50th anniversari of first K-2 climb.