Monini is basic supplier sponsor of MASCALZONE LATINO team, the Italian boat that participates in the America's Cup Challenger 2003;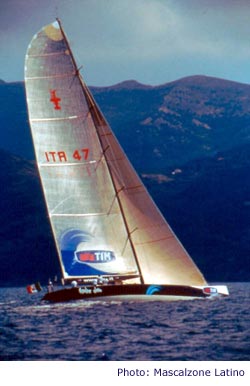 Mascalzone Latino Challenge, Italy
Reale Yacht Club Canottieri Savoia

Head of the syndicate is Vincenzo Onorato has assembled a full-blooded Italian team to challenge for the 2003 America's Cup. The team is supported by their main sponsor, TIM, an Italian mobile phone network. You can find a list of all of basic suppliers on the Mascalzone Latino WEB SITE.
Onarato is billed as the skipper as well as syndicate head, but it is likely that the young and talented match racer Paolo Ciann from Naples will steer the boat. Their new boats will be designed by Giovanni Ceccarelli and built at the Tencara yard in Venice, where the Il Moros of 1992 were built.
Mascalzone Latino (Latin Rascal) has only been established for around 20 months. The lack of preparation time compared to other syndicates could be cause for concern. They have missed at least one year.
With an extra year Onorato feels that the Syndicate could have built two new generation boats, as it is, due to the lack of time the ability to test their design and boat has been significantly reduced.