June-July (annual)
Spoleto, Italy

MONINI SPONSOR since 1958
Italy's leading the international arts festival, "The Festival of Two Worlds", which is a World Wide attraction that involes music, dance and theatre scene. This wonderful event takes place in Spoleto, (Italy) the last week of June and the first two weeks of July.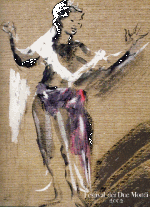 "An ideal Artist's place".
Maestro, Giancarlo Menotti


Gian Carlo Menotti, a Pulitzer Prize winning composer, founded The Festival dei Due Mondi (Festival of Two Worlds) in Spoleto, Italy in 1958. The festival was meant to be a forum for American artists to showcase their talents. Soon, Spoleto became a home for singers, actors, dancers and visual artists to produce traditional and experimental works.
In 1977, Menotti decided to create a U.S. version of the festival. After examining many U.S. cities, he found Charleston, South Carolina to be best suited to host Spoleto USA. It is large enough to handle 17 days of non-stop events and small enough to recreate Spoleto, Italy's charm.
The Spoleto festival has maintained the original festival's traditions while establishing a reputation as a premier artistic event. It is a forum for the audience to see the world's best known artists. And it is a medium to expose young talent to the professional world.