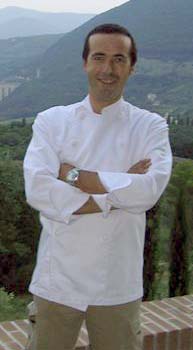 CHEF ANGELO FRANCHINI
He is Instructor at The University of Sapori of Perugia, Italy.

Has been the Executive Chef at the prestigious "Le 3 Vaselle" 5 star restaurants in Torgiano, PG

Personal Chef for Maestro Gian Carlo Menotti, acclaimed opera composer and Founder of the Spoleto Festival

2004 Awards Winner of the Grand Cordon d'or of the French Cuisine, rewarded by the Grimaldi Royal Family, in Montecarlo, France

Hong Kong Hilton
Four Seasons Vancouver
Rhiga Royal - Kyoto
Tamanaco Intercontinental - Caracas
Radisson - London
Sheraton - Seattle
Ca del sole Restaurant - Los Angeles
Metropolitan Hotel - Dubai
Events calendar:

Thursday, May 24, WILTON, CT
A Spring Umbrian Menu - Chef Angelo will teach a class at Cucina Casalinga of Wilton, CT.
Saturday, May 27, LAS VEGAS,
TRATTORIA DEL LUPO , the Las Vegas Italian Restaurants of Wolfgang Puck at the Mandalay Bay Resort & Casino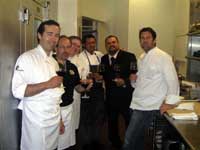 PREVIOUS TOUR

Monday April 23 - BOSTON
Chef Franchini will be joined by Chef David Plante of Aquitaine Bistro of the South End.

"Chef Angelo Franchini of Monini Olive Oil will be here from Umbria and he will be joining Chef David Plante of Aquitaine Bistro in the South End! They will entice us with a menu based on traditional Umbrian dishes and the bounty of spring."


Wednesday, April 25 - WASHINGTON D.C
BlackSalt Fish Market & Restaurant

" Chef Jeff Black will showcase the cuisine of Umbria Wednesday, April 25 at his BlackSalt restaurant with the help of his special guest, Chef Angelo Franchini, who will show off his culinary talents with a five-course dinner paired with some killer wines "

Friday, April 23rd, RYE, NY
Aurora Restaurant of Rye
Chef Franchini will be joined by Aurora Chef's Joe Engongoro and Albert DeAngelis

" 7-course meal prepared with typical Umbrian Spring ingredients including: chicken liver pate, marinated beef, lentils, lamb with baked vegetables, panna cotta dessert, each course accompanied by a selection of matching Umbrian wines"