Remi restaurant, created by designer Adam D. Tihany and chef/owner Francesco Antonucci, combines the rich traditions of Venetian cuisine with the romance and elegance of Venetian design and architecture in an updated and innovative style.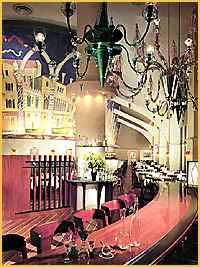 Colorful Venetian glass chandeliers suspended overhead compliment the bar's fine collection of Venetian glasses, both new and antique. Most impressive is the soaring 120' mural of Venice by Paulin Paris, resembling a restored Renaissance fresco.

With a desire to celebrate the magic and tastes of Venice, designer Adam D. Tihany and Chef/Owner Francesco Antonucci founded Remi restaurant

145 W 53rd St
New York, NY

Tel: (212) 581-4242
Fax: (212) 581-7182
Email: remirestaurant@earthlink.net
Executive Chef Venetian born Francesco Antonucci, chef and co-owner of Remi Restaurant, was educated in the art of cooking school in Venice, Italy. Francesco began his illustrious career with El Toula, the internationally renowned, elegant Italian restaurant chain.