In Italian Vento means "wind" and this multi-regional Italian Trattoria, offers dining and drinking that's more than just a gust of hot air.

The outdoor café offers prime people-watching at one of the most exciting intersections in New York City. On the inside, exposed brick walls and wooden beams offer a warm Trattoria ambiance.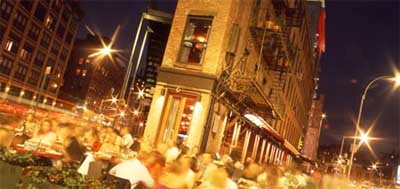 675 Hudson St
New York, NY 10014-1231
Phone: (646) 461-3335
Vento website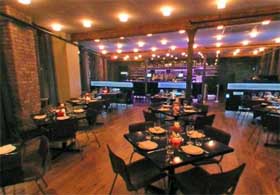 Vento Trattoria, located in the heart of the Meatpacking District, is serving up a masterful Italian experience. The casual, multi-regional Italian menu features small plates perfect for sharing!
Start off by creating your own antipasti platter of fresh olives, imported Italian cheeses, and cured meats. Then peruse our main menu and feast your eyes on dishes like Peperoni Imbottiti stuffed with Baby Sweet Red Peppers and Parmigiano Cheese, Polpette, our Sicilian Meatballs and our Calamari with Citrus Remoulade. Our menu also features fresh house made pastas such as our Casarecci Pasta with Peas, Prosciutto, and Truffle Butter and wood oven pizzas such as the Parma Pizza with Prosciutto, Mozzarella and Arugula. The 200 bottle wine list features indigenous Italian varietals that encourage experimentation with lesser known types of wine.