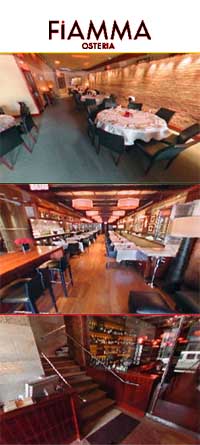 212.653.0100
206 Spring Street
Between Sullivan St. & 6th Ave.
New York, NY
Fiamma Osteria Web Site



In Italian, Fiamma means "flame" and that's no accident: this place is hot. New York Times three-star, Esquire Chef of the Year, James Beard Nominee hot, that is.

Sleek, sexy, sophisticated; for a restaurant to truly seduce, it has to have all three ingredients. Fiamma has all this and more, with a mouthwatering menu and a prime SoHo locale.


Signature dishes reflect the simple seasonings of Italy - Capesante, Braised Wild Mushrooms, Branzino; and Garganelli, Imolese Quill Pasta with San Daniele Prosciutto, Spring Peas, Truffle Butter and Parmigiano. Espresso Zabaglione served on a Bittersweet Chocolate Cake with Dark Chocolate.
Executive Chef Michael White and Executive Pastry Chef Elizabeth Katz deliver stellar cuisine with grace and style.