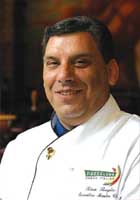 Executive Master Chef Rino Baglio
, native of Como, Italy, joined in 2006 Pazzaluna in the role of Executive Chef. "Rino," once the personal chef of Monaco's Princess Caroline, has been called upon to cook for international dignitaries including Pope John Paul II and President Ronald Reagan. He was also on the team of chefs that prepared the wedding dinner for Princess Diana and Prince Charles. Rino has also had the pleasure of cooking for such celebrities as Liza Minelli, Sammy Davis Jr., and Frank Sinatra.
Rino earned Culinary Arts degrees from Cordon Bleu in Paris and from the Amerigo Vespuci Institute of North Italy. He is a member of the American Chef Federation and the Italian Chef Federation. He has competed in countless international culinary competitions, most recently winning three gold medals and one silver in the 2005 European Chef Competition in Lucerne, Switzerland, in which he competed against more than 100 other top chefs.