Pizzeria Mozza is a bustling, urban, burst of flavor and color. Open noon to midnight, seven days a week. Is a perfect atmosphere - whether it be a business lunch or late night snack. The wine bar provides a vibrant venue for sampling from a selection of 50 Italian wines at $50 and under, but don't forget about the ample offerings of salumi and pizza. An intimate private dining room is also available for group events and parties.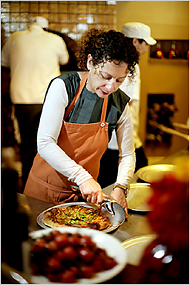 Ever seen Littleneck clams on a pizza before? Well that's the kind of culinary chutzpah you can expect at the first part of two-part 'mangia mangia' melodrama from Nancy Silverton and Mario Batali. (In 2007, the more mature Italian sibling opens next door, Osteria Mozza.) As the two well-respected chef/restaurateurs behind this upscale pizzeria, Silverton and Batali are doing novel things to the pizza pie here; for instance, tossing white anchovies, squash blossoms and fingerling potatoes onto them amongst other more predictable items. Surrounded by suspended UFO-like light fixtures, which add a nice effect to the food bar, the restaurant is small, yet packed with tables to accommodate LA loyalists as they choose from pizzas, panini or the "piatti di giorno" -- plate of the day.

Chef Silverton unerring culinary instincts for New Italian cuisine make his restaurant one of the state's best. Loud and festive, this spot is always an exciting room to enter.
The handmade ricotta gnocchi with duck confit, braised leeks, carrots and sun-dried cherries is a knockout. Main plates, including a tender mustard-barbecue cedar-planked salmon, can triumph or fall somewhat short.