MATCH
98 Washington Street
South Norwalk , CT 06854
Ph:(203) 852-1088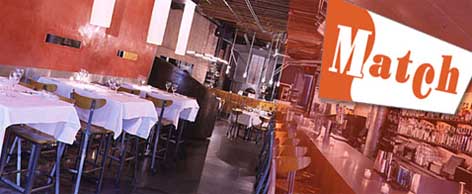 Match is located on Washington Street in the heart of historic South Norwalk. Scott Beck created Match in 1999 and he strategically located Match across the street from his other SoNo landmark, The Loft Martini Lounge.
Over the last seven years, Match has become one of the favorite restaurants of Connecticut diners, winning the 2006 and 2005 "Readers' Choice for Best Restaurant" in Fairfield County as well as the distinction of "Best Service" in the state, from Connecticut Magazine. In addition, Match won the 2005 "Best New American Restaurant" and "Best Service in Fairfield County" from Moffly Publications (Westport, Greenwich, New Canaan/Darien Magazines), and the 2005 "Best New American Restaurant in Fairfield County" from the Fairfield County Weekly Readers' Poll. For the second straight year Yankee Traveler Magazine listed Match as one of only four restaurants in the state that are a "must visit."

Matthew Storch, a graduate of the Culinary Institute of America and protégé of Todd English, was brought in several years ago as Executive Chef, and took Match's cuisine to a new level, which earned him a partnership interest at the age of 24. Storch's emphasis on exceptional food made with high quality, local ingredients, and coupled with beautiful plate presentation and great service has made Match one of the top restaurants in Connecticut.