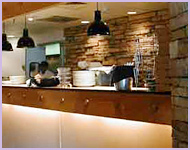 Bricco's offers something for everyone - there is always an item on the menu that pleases everyone!
"Our service is impeccable - the food is delicious and the restaurant is charming!"
The Mediterranean-inspired menu changes constantly, but you'll always get an artfully presented meal.
Chef Billy Grant's unerring culinary instincts for New Italian cuisine make his restaurant one of the state's best. Loud and festive, this spot is always an exciting room to enter.

The handmade ricotta gnocchi with duck confit, braised leeks, carrots and sun-dried cherries is a knockout. Main plates, including a tender mustard-barbecue cedar-planked salmon, can triumph or fall somewhat short.