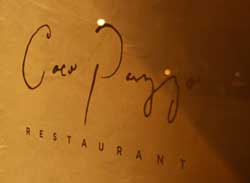 COCO PAZZO RESTAURANT
300 W HUBBARD ST.
CHICAGO, IL 60610
Telephone: 312-836-0900
Located in the fashionable River North neighborhood, since it's opening in 1991, Coco Pazzo has earned the reputation as one of Chicago's best Italian restaurants. Behind the AAA Four Diamond award-winning concept of traditional Tuscan cuisine are Executive Chef Tony Priolo and owner Jack Weiss who strive to emulate the pinnacle of Tuscan tradition. At Coco Pazzo, the focus is straight forward – we are dedicated to the essence of Tuscan cuisine and culture.