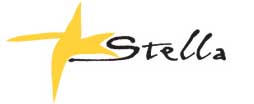 STELLA
1525 Washington Street
Boston, MA
(P) 617-247-7747
(F) 617-247-8747


WWW.BOSTONSTELLA.COM
Stella is located in the heart of Boston's South End offering affordable and approachable Italian cuisine in a chic environment like no other restaurant in the city. The menu is an exciting travel through Italy and it's surroundings. Stella brings the best ingredients of each region using a modern approach and a respect for tradition. Inspired pastas, pizzas, roasts and braises representing virtually every region of Italy.

Evan Deluty : Owner / Executive Chef
Robin King: Executive Chef